I was recently chatting with Carlton from the NYSA (the wonderful New York Stereoscopic Association) and he was trying to get good 3D models of some small artifacts he'd collected.
Hi Carlton! I looked into this a little more and I've updated that old Instructable I put together and verified this photogrammetry technique (The Microwave 3D Scanner) still works, but only with the Agisoft Professional Edition (with free 30 day trial). I tried a test set of images to verify this technique this afternoon - VERIFIED! I now believe those artifact photos we were trying out at the lab have reflections that are causing issues. Give this another try with photos with the white backdrop and I bet you'll have more luck. Happy to help out at the next LKG meetup or NYSA meeting too.
That updated photogrammetry-rig-on-the-cheap instructable here: https://www.instructables.com/id/The-Microwave-A-Color-3D-Scanner-for-Small-Objects/
While I'm at it, for scanning people the best portable rig IMO is still, years later, the Structure Sensor running Itseez3D. Don't judge a 3D scanning app by its terrible name – this is still the most amazing way to capture scans of people on the fly.
Here's LKG co-founder Alex in his typical garb scanned with this rig: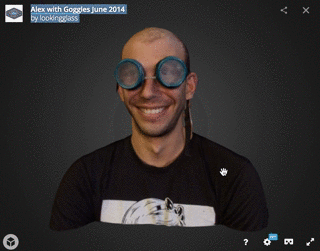 I loved what the folks at Occipital and Itseez3D made so much that I put together a quick Instructable for other folks that want to get people-scanning!