I've been having a lot of fun making 3D content for the HoloPlayer One in Unity. I'm quite familiar with Unity, and so using the HoloPlay SDK on that platform was pretty straightforward.
Lately, however, I've wanted to develop more web apps as certain things that would be a bit challenging to implement well in Unity (like streaming content from the web) are much easier in HTML and JavaScript. The problem is, there's no way to render to the HoloPlayer One with JavaScript! Taking on this task seemed like a fun challenge for me. It would let me gain a greater understanding of how the SDK works, and I would be able to learn more JavaScript development at the same time.
First, I needed a JavaScript library that's built for making 3D apps. After doing some research, I settled on Three.js, which is a powerful and popular library with good documentation and a strong community. What's nice about Three.js as well is that it gives you a lot of control over rendering, which is important for making the HoloPlayer work.
A few days of work and a lot of help from @kyle later, and I have something working!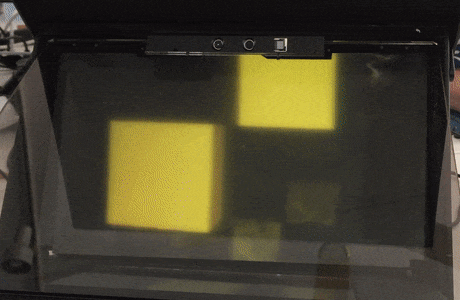 It might not look like much, but the code is flexible enough that I could put something much more interesting than two cubes into the scene and it will (hopefully) render properly. There's still a ton of work to do to make it stable and easily usable, but the idea of opening up the HoloPlayer One to web developers is exciting to me.
To be continued…