.
IndieCade [10], Oct 6-8, Little Tokyo, LA
.
[slight edits below for functioning gifs]
"I am Ben [photo left]. Full time 3D Artist-Animator, World Builder, and Unity Dev at Looking Glass in NYC. I spent the weekend in LA exhibiting and speaking about one of my offerings Marshall's Theory [release] on the Looking Glass HoloPlayer One and SDK at IndieCade. It represented a return to the annual event for me, a chance to see how the technology I've been working with intersects with an audience that is accustomed to the 'new', and to bolster my interest in the medium of games by observing the zeitgeist of it. With me was Looking Glass's own The Josh Craig [photo right] who is our Sound Designer, 'Hologram Evangelist', and well-connected artist of music and sound in his own separate realm outside the lab. We covered select locations in the city following IndieCade showcasing our holograms and a long-term project soon to begin lift-off…
The following accounts are of a diaristic nature which goes scene by scene as they occurred. For the sake of brevity."
±-+
TUESDAY OCT 3
11:00 AM: Secure two HoloPlayers and PCs for them. In the lab is a wide array of kits that range from the very previous, the recent, the now, and the future to be. I test two of the now on my lab desk, borrowing from a VR-HP1 God game setup (new title: "After Journey") [main article] in progress and my day to day unit.
12:00-6:00 PM: Work on the RealSense touch version of Marshall's Theory and a side architectural work. To this point, Marshall's Theory [full article] had been controller-keyboard exclusive. It is a project that has been shown at several other locations and has lived through different generations of LKG hardware with the interaction changing on a whim. It is amorphous in a way to the manner that the tech alters in the lab.
±-+
WEDNESDAY OCT 4
7:00AM-10:00PM: Deal with array of personal and professional challenges prior to departure. Professionally, attempting to build a Makey Makey controller for the game in an attempt to give a non-keyboard, intuitive manner of doing the 'Presidential Attacks'. Previously have done this with Tech Deck operation of Doors to the City. Current HoloPlayer kits have no embedded buttons for use; but will very soon. Makey Makey is flawed for this after experimentation ('ground' always needs touch access; creating difficulties) and I will just rely on keyboard at show.
±-+
THURSDAY OCT 5
2:00PM-8:00PM (PST): Fly into LAX and arrive at hotel. Logan and Rogue One are very good movies.
±-+
FRIDAY OCT 6
7:00: Wake up. Gym. Prepare.
9:00: Walk over to Little Tokyo and the Japanese-American National Museum which is the site of IndieCade this year. Get badges for me and Josh.
10:00-12:00: Josh and I survey the various areas of the show. To no surprise, it is still being set up but guests are allowed through.
EVERYTHING IS GOING TO BE OK by Nathalie Lawhead. Instantly hit with a visual piece that is more interaction than 'game' like. It sets the tone in a very nice way. I am drawn to projects which boast hypersaturation and the psychedelic as a foundation. It feels like I pick into a stream of consciousness by interacting. The way it denies the need of 'purpose' is admirable.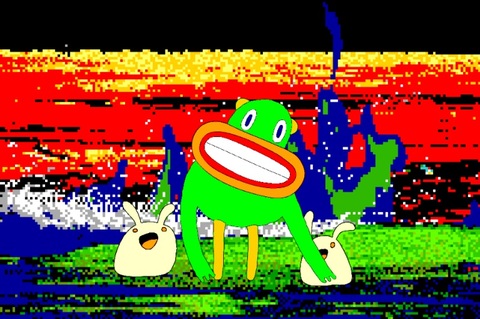 RHYTHM DOCTOR by 7th Beat Games. There are a couple of prevalent things at work here: the inclusion of a Joy Con as its interface and the weaving of narrative and rhythm mechanics. Parappa the Rapper comes to mind. Every 7th beat of a song section a click must be pressed. After a certain point, all I needed to do was close my eyes to succeed. Almost a necessity as the visuals may be misleading as the beat fluctuates. Neat use of Joycon! Evan of LKG is also developing use for Joycons in the HoloPlayer as well.
PHOGS, from Abertay University. Douglas Flinders, Henry Pullan and James Wood. This is an alumni title at IndieCade and from a Scottish university where my own masters Thesis committee chair Joseph DeLappe teaches now. The rig of the main character is quite clever as it is two stylized dogs bound by a single body as they need to take turns biting and stretching to reach a destination. I played in tandem with one of the devs and felt very whimsical throughout. Though the anxiety of 'failing' your teammate(s) was always there. I sensed it in another multiplayer game I played that evening as well. Though perhaps that is subjective. Maybe if two friends were playing, it would be much easier on the mind. This is not to detract from its inventive control scheme and visually effective minimalism.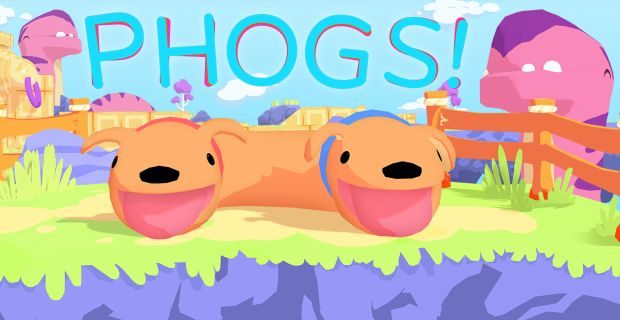 ZINNO STUDIO, Un-Destined. As mentioned briefly, I am working in the lab on a tandem Vive-HP1 project that requires two players. This project was an interesting one as the 'engines' of them are similar aside from the Hologram, planned visual style, and variety of virtual space usage. It is a neatly contained 'escape room' style work that requires a helmet-less user to guide the user in VR across a spate of puzzles that veers into MR territory. Aside from space concerns in the actual facility, I found it to be a unique exercise in expanding upon VR which may be seemingly plateauing in exploration potential.
BLEEP SPACE, Dan Friel Andy Wallace. Downloadable as app too! A work seemingly tailor made for Josh. A sound sequencer that draws shapes and adds stems to a progressive musical track at the press of a button. There is a special arcade kiosk for this work which adds a dimension of interactivity to the piece. The creators of the work are in Queens nearby to LKG, so NYC represent!
WORKS I REALLY WANTED TO SEE AT THIS TIME BUT COULDN'T SO I'LL MENTION THEM ANYWAY. EMOTIONAL FUGITIVE DIRECTOR. VR SENSATION. CAT SORTER. AND MULTIPLE PANELS.
12:00 PM+ : Show Marshall's Theory on the HoloPlayer One.
[gifs should be below, if not, mash keypad furiously]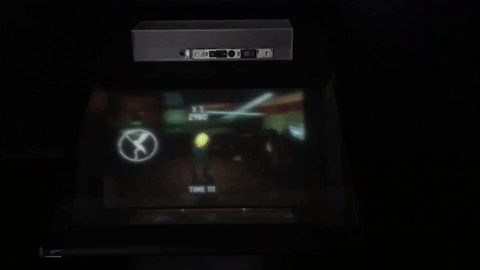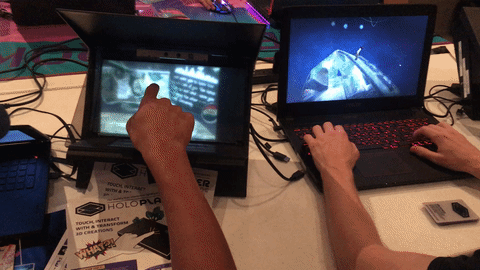 At the Democracy Lab which is a fitting venue name. Josh points out the willingness for people to see new things at the event. More so than home perhaps. Per expectation, people laugh at the crudeness of it, take a minute to get acclimated to the touch controls, and begin in a stride after replaying 2-3 more times. At the very start, technical difficulties hit a HoloPlayer where the RealSense camera had issues. Which is why I brought a backup! As well, scene changes in Marshall's Theory made the RealSense disconnect at certain moments.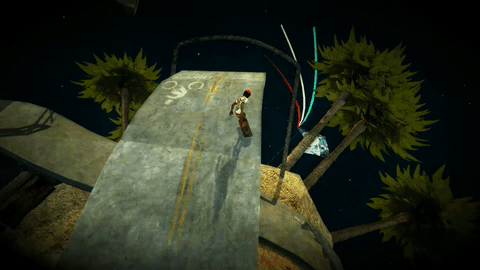 After a while, trying to explain the touch and touch-less versions of the game got tiresome and inefficient. Thus, I benched the broken HP1 and unleashed the newly evolved Doors to the City [main article] on PC! Towards the end of showing, it became a small smorgasbord of my LKG work switching intermittently between Marshall's Theory, HoloDancer [release] and Doors to the City while bringing in Oliver G.B.'s Blob Pack [release] and HoloBrush [release] to best describe the capability of the system itself. Lots of guests and reporters managed to veer their way into the area and saw a working HP1 with RealSense. In the end, it all worked out.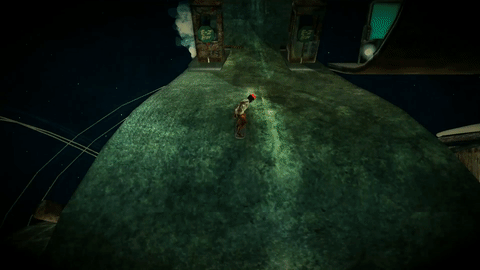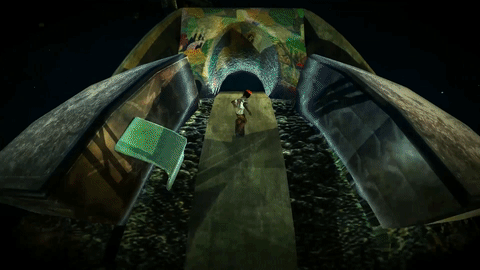 SOMETIME DURING: Lunch. Josh can't stop talking to people. Little Tokyo was nearby for an easy grab.
4:30-8:30: We catch an array of additional works in the show and other fun things. In the evening, I went alone to the multiplayer night fights.
EXPLODING KITTENS. A giant card game version of the existing one. I have no knowledge or position on the regular version, thus we were just flipping giant cards around. As an installation it is unique with humorous illustrations. That, and there's a giant human litter box around too.
Writer's sub note: There's a lot of cat related games this year.
NEW WAVE TOYS, minimized to exact scale functioning vintage arcade cabinets! A toy collector's dream. We saw a prototype of mini-playable Centipede on display. There is a lot of work that goes into the functionality of the mini-cabinets and securing titles. Impressive all-around.
TACOMA, the Fullbright Company. i.e. The Gone Home folks. I was able to play a good 15 minutes. The spatiality of maneuvering in the areas adds character to the narrative that slowly but surely unfolds. This title invites you to find personality in the dark regions of infinite space. It will only grow deeper in a more full play through. The small time I spent didn't afford me to see the true nature of the game.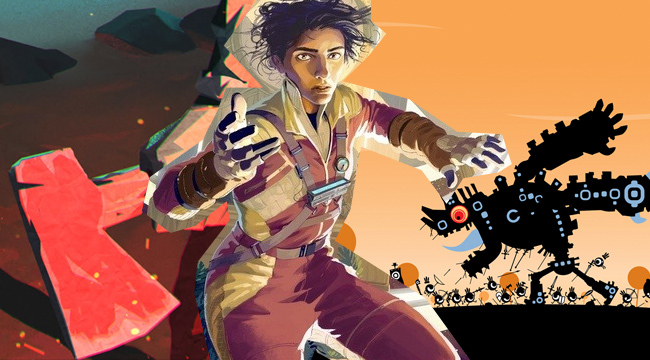 AT SUNDOWN, Mild Beast Games. Multiplayer fight night! I took on a wide variety of games that pitted me against strangers and devs alike. At Sundown had the most impact for me as a title that brought joy, friendly shoot-em up competition, visuals, and a unique mechanic where you are completely invisible outside of the light and occasional footprints. This has the player make a decision between articulate stealth and 'guns-blazing'. More so often, it is the latter. Although, the way the game makes you think about your decision creates a fun inner conflict.
Video call with wife.
±-+
SATURDAY OCT 7
7:00 AM: Jogging. Go to festival.
10:00 AM: Panels! I start in the auditorium where a panel of art, games, and technology is up. I come across a presentation of VIRTUAL, VIRTUAL REALITY by Tender Claws. It is a game that features a slab of melting butter as a primary character. It is a work that challenges the customs of VR and in many aspects that kind of perspective is needed if not overdue. I found myself laughing but also somehow immersed in a world that points out the banality of immersion for immersion sake.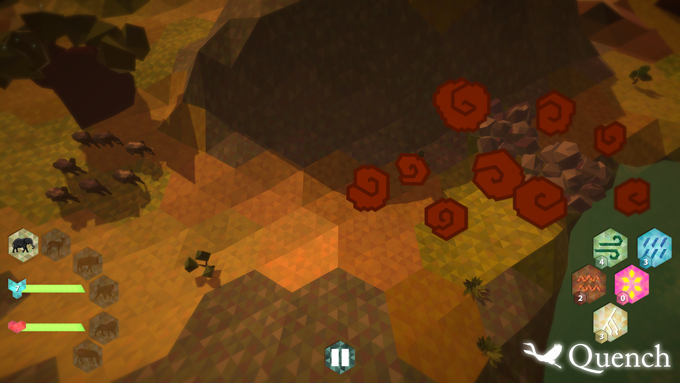 11:00 AM: Tabby Rose presents on funding for games in the Araki Education center. She is also a dev (AXON INTERACTIVE) that is responsible for the game Quench- a God game title; of the essence in our own Brooklyn Lab. The tales of precaution and tips in funding were of value, even to me as a full-time developer in the LKG lab. The business side of production informs in many aspects the aesthetics and targets of what a game needs to be for investors today.
12:00 PM: Subversive Games panel. I am a part of it and go first to present on my game and the HoloPlayer. Since the panel was 'subversive' in nature, I gave a small ode to a previous title 'In a Permanent Save State [five years since release] to some laughs. I was panel-mates with Florent Martin, a gamemaker and ex-journalist, from France and klassefilm, a production company working on projects that are as 'documentary' as they are fantasy. As a whole, content wise, it is one of the better panels I've been on. It is spectacular how a conversation about subversion or politics in games easily morphs into an analytical survey on where fantasy ends and reality begins in games; or vice versa. I left the session quite inspired by COSMIC TOP SECRET, a six-year in the making photo-montage documentary game from klassenfilm. The art style and the intermingling of tales between one of the developers and her father over the game's stylistic, paper folding visuals sparked the imagination. From discussions with these developers, early next year should be full release.
SOMETIME AFTER: Lunch. More Japanese which is always good.
4:00-8:00 PM~: After skimming more of the festival, it is decided that the IndieCade sector of Los Glassgeles comes to a close. We go to an artist and developer's LA residence, Aaron, to display the HoloPlayer and Doors to the City. Without hyperbole, Aaron plays Doors to the City with only intensive visuals and physics mechanics for up to 45 minutes. I am penciling in plans for the game at this point to reach a more universal show state. Aaron plans to have a wise, 3D yogi give universal advice upon text activated request in the SDK! Conversations with him and Josh were engaging.
Video call with wife.
11:00 PM: Sleep. Josh decides to crash on my hotel couch.
±-+
SUNDAY, OCT 8
7:00 AM: Gym. Minor foot injury.
9:00 AM: Breakfast at the Waffle in Hollywood with one of Josh's boys. In the Hills, we come across a Zika virus warning. That is so 2015.
12:00 PM: I run diagnostics on further technical difficulties with machines in hotel while Josh is chilling.
1:00 PM: Another of Josh's friends, also an Aaron, is shown HoloPlayer. They too, collectively, play Doors to the City around 30-40 minutes. The artist, also a jacket designer, may be interested in putting one of his jackets being in the game. He also does some 3D printing which would be ideal for another community SDK creation!
3:00 PM: A visit to PARKER DAY'S studio [work above]. She is a renown photographer. Josh and Day talk a lot and catch up. She tries the HoloPlayer. After which, we discuss the newly developing "Super Pepper" in our Brooklyn lab [article]. An idea involving MR, the space on the floor of the Super Pepper, diorama, and layered video gets discussed. It sounds fantastic.
5:00 PM: A quick visit to Sam, an LA artist and programmer, in his residence. Immediately, there is interest in the HoloPlayer and SDK. As well, Doors to the City which gets hooked up to yet another stranger's TV set. I wish I can stay longer as him and his roommate seem chill.
6:00 PM: I buy my lovely wife gifts.
7:00 PM: Work, because time and not enough of it.
Video call with wife.
Sleep, after I kick Josh out of my Air BNB.
(kidding)
(man)
±-+
MONDAY OCT 9
3:00 AM: Wake up after four hours of sleep and go to LAX.
6:00 AM: Fly on United Airlines. To no surprise, there were overbooking issues.
NOW: On the flight writing this.
±-+
CONCLUSION
A great weekend with technical mishaps that are not the end of the world. It has helped shepherd clear goals for the near and far future for my own visual craft. Which issues to watch out for. Which elements to capitalize on. With my upcoming projects in the lab, I hope to reach an aesthetic and interactive potential I know I'm capable of. Engaging events like these remind me of just how vast the playing field is out there. After an enduring September and big event in LA at the start of October, I think I'm ready to have a weekend free.
±–+