Hi! I just installed the Looking glass on my PC, The Holo service is running, but I can't seem to get the library up and working. No looking glass is detected even though I can see the windows icons at the bottom of the glass, and it does treat the device as a second monitor.
The suggestion was to unplug the cables restart the Holoservice, which I did, and then plug the cables back in.
When I launch Library again, I still get nothing.
Wondering where I'm going wrong as the instructions seem pretty straight forward.
My PC is AMD Ryzen 5 3500, Nvidia RTX 2060 Super, 16Gb ram, Windows 10 2004 x64. Cable pluged in USB 3.0. We are using default cables.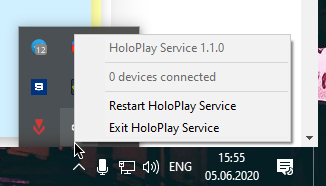 Please, help.
Regards,
Arseniy.