Hololoop
---
Hololoop is an extremely user-friendly animation tool, allowing you to drag and drop ready-made props and animate them using a timeline.
Made by @dez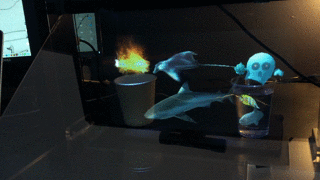 Instructions:
Hololoop utilizes your primary monitor as the 2D UI area and a HoloPlayer (or other experimental superstereoscopic interfaces with HoloPlaySDK calibration) as the stage.
Using your mouse, drag a prop onto the blue staging area.
You can then rotate, move, or elevate it.
At the bottom is a timeline–Hololoop will automatically tween between frames.
Make your masterpiece!
---
HoloPlay version 0.37
Does not use Realsense
Uses sound
Uses your monitor/laptop screen and mouse controls
Windows Only!! (macOS version coming soon)
Download: