HoloBrush
---
Holo-Drawing in three magnificent dimensions!
Instructions (Inputs):
Space: Hold to draw
Shift(either): Hold to rotate
T: Hold to pan around the scene
Y: Hold & move in/out to scale/zoom
Z: Undo last line
Hold Arrow Keys Up/Down: Brush size
Arrow Keys Left/Right: Switch brush types
R: Auto rotate
Tab: Function menu for the following stuff (also on hotkeys):
C: Color picker toggle (start drawing or press again to pick the shown color)
S: Save (one drawing)
L: Load
Esc: Clear/reset
You might see some jittery behavior in your lines, particularly near the edges of the visible holo-space. Expect some more advanced smoothing/interpolation in the future!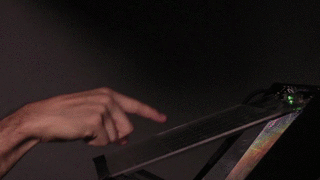 ---
HoloPlaySDK version 0.35
Uses Realsense
Uses sound
Uses your imagination
Downloads: