I saw a post on the Structure Sensor forum asking about how to pull HoloFlix (recorded on an iPad) into Unity. After you download the HoloFlix app to your iPad and record your first glorious Holoflix, a new video album should appear in your iPad's Albums folder, like so (this screenshot shows a bunch of other folders I made for fooling around, but HoloFlix is the auto-generated album made by the HoloFlix app):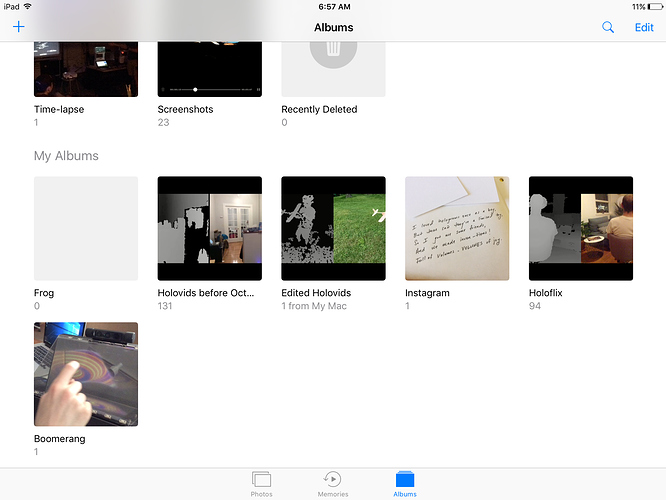 Inside that folder, your Holoflix lurk!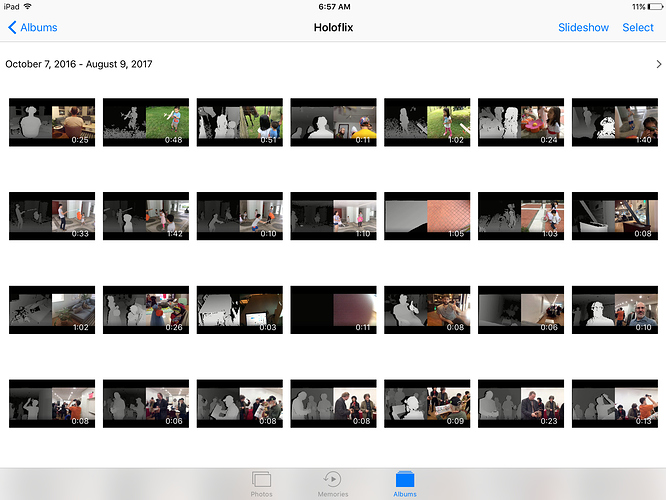 You can pull those Holoflix onto your Mac/PC as you normally would drag any photo or video kicking and screaming from your iPad into your Mac/PC (e.g., through AirDrop or over USB).
Then to get Holoflix into Unity, download the Holoflix Unity SDK that @dez made right here!
And then as a last step to get that Holoflix into the real world floating above your HoloPlayer One, use the just-released beta HoloPlay SDK @kyle and @dez made right here.
I know that may seem a little complex, but it's a 10 minute process start-to-finish once you get the hang of it, no programming required. We're working on making it even simpler, using the Holoplayer's built-in Realsense SR300 camera.
*If more folks want to record Holoflix, get them into Unity, and then pull those volumetric videos into their various interfaces (HoloPlayer One, VR, AR), post your requests here and the Looking Glass team will put together a more comprehensive tutorial!