Just received my Looking Glass and have issues getting it to work properly. Currently seeing this when playing the test scene: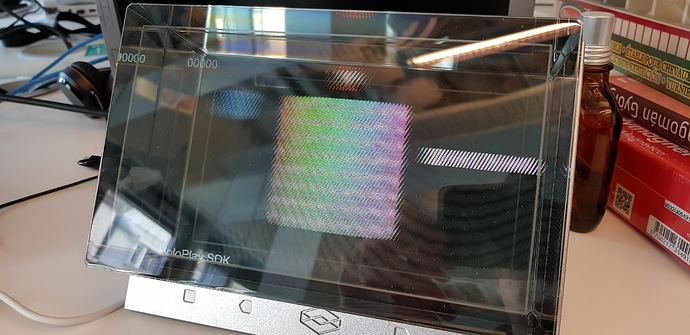 Setup:
MacBook Pro (13-inch, 2018, Four Thunderbolt 3 Ports)
2,7 GHz Intel Core i7
16 GB 2133 MHz LPDDR3
Intel Iris Plus Graphics 655 1536 MB
OSX High Sierra 10.13.6
Connections:
For USB I'm using an USB-C - USB-C cable instead of the USB-C - USB-A cable provided.
For HDMI I'm connecting via an El Gato dock's DisplayPort, with a HDMI-DisplayPort converter. So it's MBP <-> USB-C <-> El Gato dock <-> DisplayPort/HDMI converter <-> Looking Glass.
I've tried various USB ports on the MBP, various USB-C cables (including the packaged cable with an USB-A/USB-C converter) and various restarts.
I'm still getting this garbled image seen above.
An additional note, the background light switch + the 4 buttons in the front (are these interactive buttons? Not sure, might be a dumb assumption it wasn't 100% clear to me) also don't seem to have any effect when pushed.
Please help, what else should I try? Thanks!