DOORS TO THE GDC | LKG AND THE GAME DEVELOPER'S CONFERENCE SHOWING
Apple, CAFA, Cnet, Criterion Games, EA, Facebook, Hasbro, Intel, LazyTechTV, Lego, Lenovo, LucasFilm, Magic Leap,Make, Polygon, RPI, StreamTV, Topp, Twitch, and Unity. What do those all have in common? Besides being members of the diverse media spectacle across entertainment, art, tech, and education, representatives were able to skate through and be immersed in a solar system of holography at Alt.Ctrl.GDC this year. This is where Looking Glass showcased a debuting system and Doors to the City across the newest floating image created in the lab (editor's note: final title to be inserted early April), the HoloPlayer One, and Standalone Desktop.
Doors to the City is a NYC-LKG lab native game and visually focused, interactive artwork controlled by Tech Deck. The title was art, code, design, rig, and animation rendered from the ground up by myself (Benjamin Poynter or Ben) since July of 2017. Joined by the avatar-star of the game, The Josh Craig, who as well showcased his music, sound design, and 3D likeness to the title. This tandem has made for some colorful dialogue, teamwork, and result in-game and in-studio. The development history contains its own story.
Doors to the City Main Development Journal
GDC served as the next stage in several debuts for the yet-to-be-titled hardware that has just been built out of Looking Glass labs in Hong Kong. Shown previously to several guests through the information highway, deep inside an NYU scientist's laboratory, and at SXSW. Regardless, guests of the booth got a chance to interact with technology fresh off the presses and loved its visual presentation and capability for film, video, and animation. The HoloPlayer One was also present to provide comparison and contrast to the new LKG device: for spectators, familiar with LKG technology and not familiar. For a game conference, the ratio of 'game embedded to non-game embedded' guests were quite astounding. GDC proved as much a tech conference as it did a game conference in many instances.
The latest system comes with very crisp resolution and a likeness to something more situated as opposed to floating. With this technical revelation, attributes such as games or gameplay would come further to the forefront than they may have before. A lot of mobile cameras came out in front of both the newest device and the HoloPlayer One. Though, there is a certain procedure to filming it which involves either a gentle rotation while video-ing, limiting glare, and increasing contrast whenever possible. Some members of the media were able to nail it (Polygon) where as others may have consolidated through a quick solution. Regardless, the glare in the exhibition zone was ideal in that there was a minimal amount of it.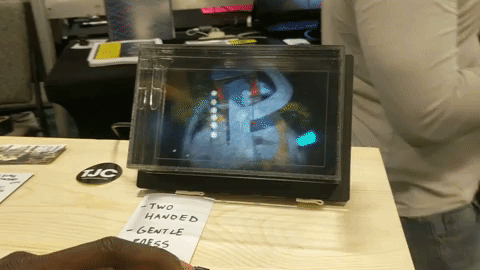 CREDIT TO POLYGON FOR GIF
GDC served as the Doors to the City's true debut as it had been in steady stages of development throughout 2017-2018 and garnered occasional showings in minimal to non-existent fashion during its development. Those at the show, myself (Ben), The Josh Craig, and Alex Duncan of Looking Glass, arrived to set-up at Alt.Ctrl.GDC early in the week for preparation and judging before 'the show'. My wife, Carina, also made it on the closing day! For her first game conference, well, ever. San Francisco doesn't change. Its scope. Its construction. Its beauty. Its construction. Its sea lions. And its population. Such as this one preparing to enter the South Hall show floor one minute to Wednesday launch.
The GDC show as a whole is a mammoth. Five years ago, I was in San Francisco for the International Mobile Gaming Awards (nomination: Best Serious Game). It was good to feel the air again. At the booth, it seemed like perpetual motion and perpetual sound catering to the interested crowds who came in to see the hologram, the game, and apparently the Tech Deck too! In essence, the show is more about getting to work than anything else as I had not much of a chance to breathe in the show outside of my perimeter.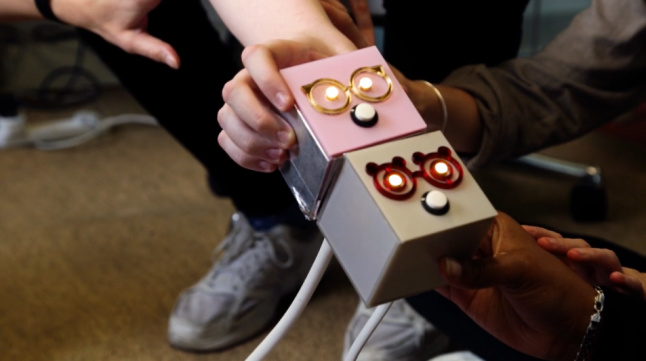 CREDIT TO GAMASUTRA FOR IMAGES
I was very impressed by my neighbors and all those around me who came from parts all over to showcase their works at Alt.Ctrl.GDC. Including: Bot Party from Phoenix Perry (pHD Goldsmith), a literal plastic pipe game entitled Lemonade from a troupe at the New School just across the pond in New York City, Voiceball from Hella Velvet which often turned into creative shouting matches, Living Orb which reflected a spherical L3D cube in our own lab, Unicornelia which is blatant bizarre and wonderfully so, Striker Air Hockey where my wife beat me 2-1, and Yo, Bartender which was magnificent despite not having actual alcohol. Maintaining the booth amidst all the noise and fun was surreal in a wonderful way.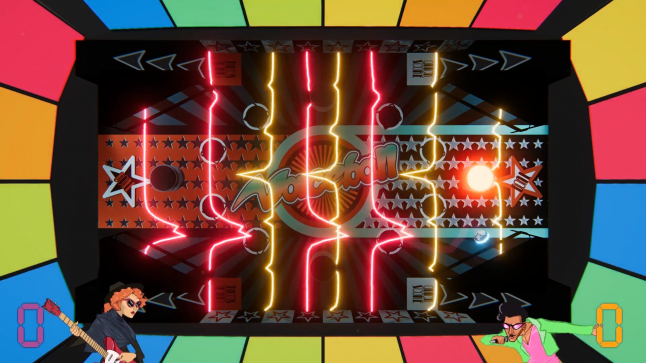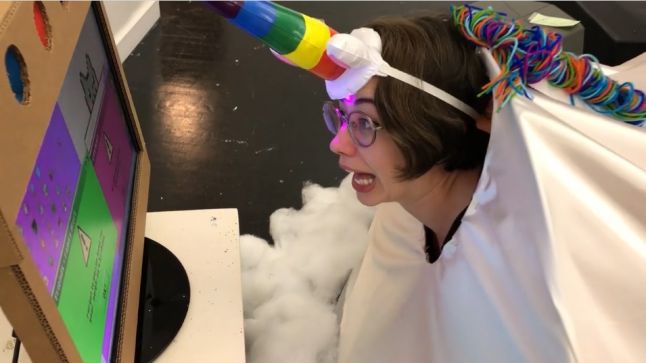 Of particular note are the worlds that came into the space inside and outside of game realms. GDC served as much of a tech conference as it did a game conference: getting the best of both worlds. Fortunately, the exhibit had a little something for everyone: the tech (hologram), the DIY (tech-deck) and the game (Doors to the City).
–Media–
Gamasutra
Polygon
LazyTech TV
Cnet
Is and Isn't LLC
The reception to Doors to the City has been quite affirming. Special thanks again to those who spent the time to film, talk, and document at the LKG booth for the game for the media. As a visual artist in primary mode, I was happy to recieve feedback in that department while keeping to heart the next steps that will be involved for its development such as an accelerometer for the Tech Deck and re-configuration for the holo-version of Doors to the City to adjust for difficulty. People's willingness to have the game in their own homes was a breath of air for the strenuous development period it is had in and out of sci-fi space. I have heard the game did its purpose in visualizing the systems very well as an image; which was a cornerstone concern. It feels like the end of a long cycle but a new one is starting.
Some highlights of the people I met throughout showcasing our wares and game at the booth:
-I met a lot of toy and entertainment designers who, fatefully enough, were also interested in the kinds of AR experiments that also were happening in our lab such as the BB-8 or Lego. Again: as much a tech conference as a game conference.


-AAA game companies were finding interest in the way the game appeared in the system itself. A personal goal of mine is to see how a AAA style product could function in the systems. With the berth of the latest device, it is nice to see it come closer to fruition through the experiment that is DttC.
-Sci-fi often meshed with reality as representatives from space programs and visual effects studios were requesting more inquiry into the holograms. As a turn of phrase from showing a skate game. I would suppose sci-fi is sci-fi; even on concrete or in space.
-A lot of Unity developer representation. Of course, it is California, though it is nice to see the influence that Unity has had on products especially including our own and Doors to the City.
Some highlights of what I ( and later my wife and I) were able to scavenge from the show as a whole:
-The retro game postmortem on Sonic the Hedgehog with its original designer and developer. Hirokazu Yasuhara and Naoto Oshima respectively. I was able to get Oshima-san to sign Doors to the City artwork with his name and a quick rendition of Sonic. That's going in a frame.
-My wife and I played Tender Claws's "TendAR" multiplayer where we both peered into a Google phone's camera and calibrated our own emotions to what the application thought would be the best showing of emotion. I lost two times. My wife won both times very quickly.
-I had a sparring match with a stranger on the retro Street Fighter II set-up in South Hall. That was a nice experience. Speaking of retro, Mutant League Football and its latest version for XBOX/PS4/Steam was available to play, where it made a dramatic and amazing resurgence.
-North Hall was filled with a large barrage of big-company consumer goodness. Word of mouth was that Sony had a floating image device of their own, though upon walking around several times I was not able to witness. Unreal was there showcasing the best games of their suite. I got to play some Rocket League (shout outs to Psyonix Games for also stopping by to play Doors to the City!), see a grown man ride a bar bull in public, and all the Mountain Dew you can get a sugar rush from.
-Seeing my wife really get a kick out of 'Untitled Goose Game'. I think animal simulator games are also making a resurgence. At least uncommon main protagonists.
In the end, all the business cards, concept art postcards, and even personal business cards I came in with dissolved into the atmopshere of stark-raving mad crowds for games and technology. Not a moment of rest. At the same time, not a moment of worry aside moments of questioning which easily dissipated. It was an event of going big or going home. I believe we chose to go big.
The future of Doors to the City. I feel the game has had a lengthy life, though it seems to have only begun. There are different screens and space it may go into. Different places all-around it can, and from my talking with people at the showcase, will go to. Josh and I gave birth to this thing which is a holographic, intergalactic, biographical, abstract work which I plan to continue giving support to whenever able and necessary for the sake of sci-fi, for the sake of the future, and for the sake of quelling a need to just create visual images.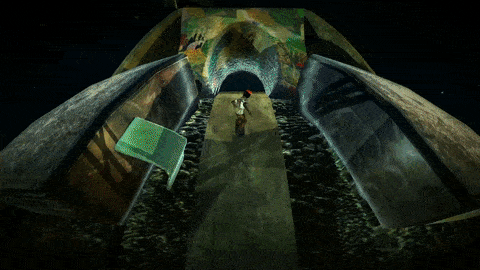 GDC was incredible.
B.