September 6, 2017
Today is a Wednesday, and I've been trying to melt brains hologramically for about two weeks now.
My challenges have been: getting use to the HoloPlayer One, bridging my knowledge gaps of Unity, and transferring my FEELINGS into comprehensible metaphors.
Hologram technology is interesting. I'm beginning to understand its limitations, hidden treasures, and satisfying traits. As an outsider to Unity, I didn't realize how simple the most rewarding interactions could be to implement. Or at least, things that are cool to me are kinda easy to do. Like making brains more gay. Look-
click this link, embedding is harder than it should be rn
After all, who is telling you what you want? Which company is it today that inspires you to buy an object, take part in an event, because it represents something, belongs to a group you want to be a part of, a bigger consumerist circle. Or, a social circle, where norms are dictated by someone with more say than you. Seems like a loose interpretation of how things can work.
So then, where is your agency? See, I desire for brainMelt to embody these values with fluidity (hah). I like emitting rainbows onto brains, but my goals are to work something more along the lines of this: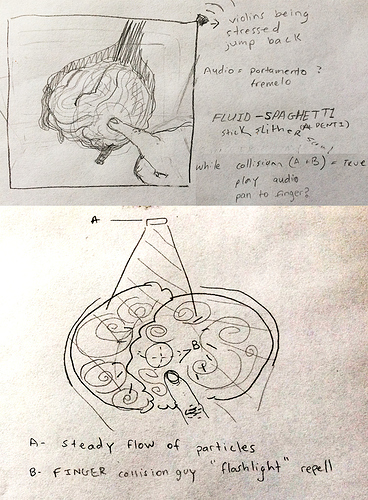 And I want to play with perspective. Truly, some (or most? I have no grasp on a broad reality) believe the best comes out of standard success. Define standard, though, right? But we always feel like there's more to aspire to than what we have. And I think if you shifted paradigms and revisited success-- "but wouldn't it be nice to be on a boat with unlimited champagne and doughnut peaches and paint pictures of my nude boyfriend?" The slick, terrifying liquid that was once the unfair rigid expectations of society become welcoming. It's totally normal for us to want luxury, but consider how hard some even have to work to achieve a basic standard of living?
To allude to our current cultural climate, I feel I've lucked out in many ways, even being queer. Being hated for liking the same sex made me more aware of standards I don't have to adhere to, even if the resulting backlash makes life a smidgen more difficult. But gosh, what a toxic, gaseous mindset pockets of society can emit into my breathing space. Sure do love to not breathe your trash air. (This is also metaphorical, I have asthma and can't breathe well anyways). But at least my disadvantages help me to see how fucked we can be.
So, to concisely say what brainMelt is, it's an attempt to represent doing what's good for you, even if there's an outside stream of "NO" coming through for whatever reason. To you, you are helping and you are comfortable. To someone else, you are wrong and this is probably the biggest mistake you've made since not applying for more scholarships.
Today, I'm going to look into adding audio that triggers based on ongoing collision. Let's see what that does for us.