Hey everyone! Missy here, a Unity Developer at Looking Glass Factory in Brooklyn. Recently I decided to take on the challenge of making a non-interactive narrative just as compelling as an interactive narrative on the Looking Glass.
For this particular project, Halfway, I decided to ask my game-designing, talented artist friend Noca Wu to help me storyboard and detail the story for the Looking Glass and draw the characters and setting. The story is short, simple, and loop-able - an allegory of what it means to become friends with another and a metaphor for how we relearn these lessons of friendships over and over again throughout our lives.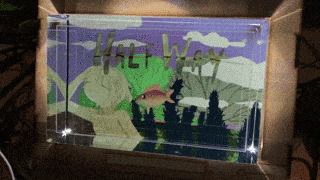 …
I think the part that was most fun was treating the story like a play, with the code as its director, and the stage as a holographic puppet box . I carefully treated and timed the placement of Noca's 2D artwork in the 3D space, like a ventriloquist treats and times the movement of a puppet's lips. As a linear narrative, without the interaction of a "player", the pace was left completely up to us.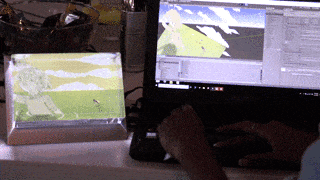 …
Collaborating in this way, I think the final result turned out beautifully (we met halfway! get it??)
Narrative within the Looking Glass has the potential to breathe new life into the realm of digital storytelling, especially in non-interactive narratives. And I'm excited to get started on my next narrative in this medium. Everyone here on the team is super excited for you - future hologram creator - to get your hands on a Looking Glass! I hope this post inspires you to make equally - if not even more - fantastical worlds of your own inside of your Looking Glass.